Welcome to the website of the Grace Covenant Church Of God. Our congregation is made up of a group of
people just like you who gather together to grow in a relationship with Jesus Christ.
Our mission here is to reach a city, county, country, and world with the love of Jesus. We are located in the
heart of New Ellenton, South Carolina.

Our church holds weekly services on Sunday and Wednesday and we would love to have you come visit and make us, your new church home. Feel free to visit our links to see information about our service times
and our staff. God bless!

For questions or information concerning Grace Covenant you may call 803-652-2103.
Office hours are 9am-2pm Monday-Friday... closed all day Wednesday

"TYING THE HANDS OF GOD"
It is strange, but true—humans can tie the hands of the omnipotent God!

Where there is unbelief, God is limited. Jesus could do no great miracle in his hometown because of unbelief
(Matthew 13:58). God could not save Sodom and Gomorrah because of unbelief--could not find even ten
righteous people in both cities (Genesis 18).

After mighty miracles and provision from God in delivering them from Egypt, one skeptical report about the
inhabitants of the Promised Land squashed their anticipation of victory and sent them on a forty-year
death march in the wilderness (Numbers 13). They did not enter the Promised Land because of their unbelief.

Unbelief binds, blinds and buries the doubter in uncertainty and defeat.

The Rich Young Ruler could not decide that God was big enough to take care of him if he would surrender
all to Him. His faith in his riches was stronger than his faith in God (Luke 18).

Agrippa could not decide to surrender all to Christ. His doubt surmounted his faith and blinded him to the
majesty of Christ and the power of faith (Acts 26)!

The Athenians at Mars Hill could believe in all the unseen, false gods they worshipped (Acts 17). They could
even give a nod to an unknown God. But, when confronted with the reality of the true God, one mighty
enough to create the universe and all that is in it, their unbelief was too strong! They could "buy in" to dead
idols, but doubted a God powerful enough to raise the dead to life again.

Don't tie God's hands in your life. Release your faith in Him. He is able to do far, far above anything we can
ask or even think (Ephesians 3:20)! Have Faith in God (Mark 11:22)!


"Gather the fuel. Stir the embers. Fan the flame!!".
Pastor Foster


Grace Covenant Church of God, New Ellenton, SC
Promote Your Page Too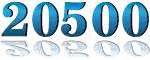 Yummy Tracker